Sterling would like to update you on the Euro debt market this morning, as the Eurozone continues to hang together by a thread.
Spanish 10 year is soaring, up 3.25% on the day to 6.586%
Italian 10 year bonds are rising,
but holding under 7% at 6.683%
French 10 year bonds are
basically flat at 3.46%
And last but not least, the
Greek 1 year is holding at 267%
LOL
The dollar continues to soar, and appears ready to test 80. Good thing the US has no fundamental debt issues.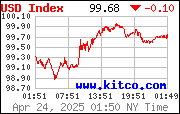 Folks, the theater you are watching now with the European debt crisis is a prelude to the main event when the UK and US come under full attack. When that day comes only time will tell, but it IS coming.