God love em.
Actually, we're pretty sure God doesn't approve of their actions, but stackers sure love em!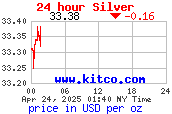 Check out silver's overnight chart. You can tell what time the LBMA opens just by looking at the price action!
Range trading all night from $40.50-$40.75 till 3am EST, when the LBMA opens.
Silver promptly smacked back towards $40.
Now Blythe is just pulling in and will throw her 105 lbs around in an attempt to stuff silver back below $40.
STACK THE SMACK!!