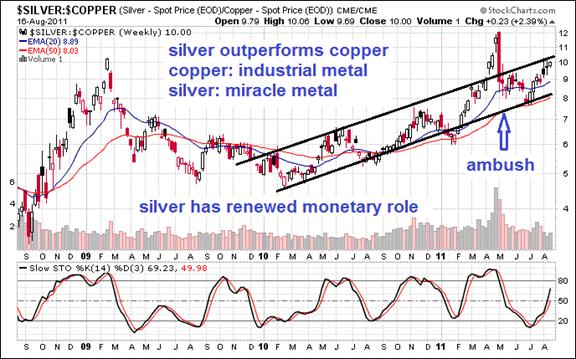 In the latest Hat Trick Letter, Jim Willie predicts gold profits to soon begin moving towards silver. (Exactly as seen by
Eric Sprott selling $30 Million of PHYS and plowing the proceeds into physical silver
)
As the silver/gold ratio has now widened to 45:1 as a result of gold's $200 price jump over the past few weeks, professional money is currently trading gold for silver to take advantage of the 45:1 ratio.
Willie looks for this to propel silver upward to the
$50
level again in the "
coming several weeks
."
Those who have been continually discouraged with silver's price action over the past few months need to be patient just a little longer, your patience will pay off.
The consolidation phase for Silver has given compromised critics and lousy analysts an opportunity to denigrate the white metal, claiming it is exposed for its vulnerability as an industrial metal. While some significant portion of Silver demand comes from industrial processes, it is not replaceable. Besides, its investment demand has been equal in US$ volume as Gold demand, a remarkable fact pointed out by sector leaders Eric Sprott and James Turk. They argue that the Silver price will move higher and reduce the Gold / Silver ratio in the process naturally. The true industrial metal indicator is copper, not silver. Copper has earned the title of having a PhD in Economics. Notice how silver has outpaced the copper price in the last 18 months. Even post-May when the COMEX ambush occurred with successive margin requirement hikes, the Silver / Copper ratio has risen steadily. Sorry, the industrial argument is a weak angle that does not bear weight or scrutiny. The Silver investment demand is due to a big important recognition that Silver is in the process of resuming and reclaiming its monetary role. The Chinese lead in that parade, adding silver to their reserves in management of their $3.2 trillion reserves booty.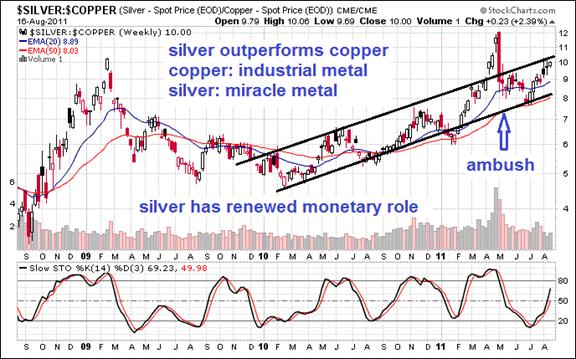 The gold market breakout has made history, exceeding the $1800 level before the usual games were played. The higher COMEX margin requirement is a tired card at a tilted table. Look for gold profits to move toward silver positions, lifting its price toward $50 in the coming several weeks. Lastly, one must wonder why the USTreasury Bond futures contract does not have to endure margin requirement increases. It is clearly the biggest asset bubble in existence. However, it is the standard bearer of the fiat paper charade. Its low yield is proof positive of being broken, just like Greece with its high yield. The USTreasury Bond complex would be in big trouble if not for the Interest Rate Swap and the US$ Printing Press both. Prepare to protect your personal wealth during the grandest transfer of wealth in modern history, from toxic paper to reliable hard metal with no counter-party risk. Money is in the process of being invalidated and redefined. The Paradigm Shift continues at work.
Click here for more
: