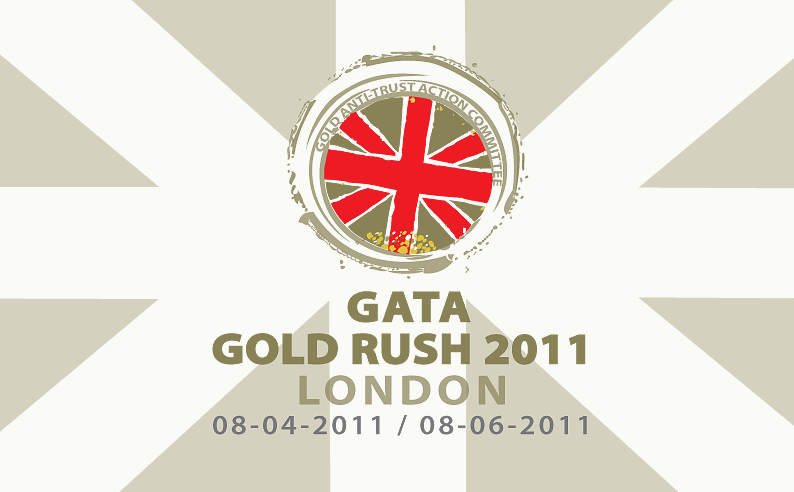 For those who couldn't make the trip to London for the 2011 Gold Rush conference, we'll be providing updates as they come.
Numerous excellent quotes already.
*Adrian Douglass: Statistical studies show London fix is manipulated (so does the daily price chart!)
*Douglass:
Gold price would be $53,500, were it not for manipulation
*
Douglas:
Gold price rigging is ending now.
Motivation is to keep US dollar as world reserve currency.
*
RT
@
jamesgrickards
:
@
gata
conference, James Turk just mentioned "Federal Reserve" and the sound system fritzed out.
*James Turk:
I don't want a government gold standard
. The govt created the problem, the market will provide the solution (We couldn't agree more, if you haven't already,
The Secret of OZ
is a MUST WATCH!)
*Turk: Bernanke's printing press is not a free lunch
*Turk:
it is still early in the bull market
, that is why the gold miners are so neglected still.
*Turk: gold has been in 100yr bear market, but this is now ending. Fear index will see 40%.
*Turk:
central banks are fighting a managed retreat versus gold
. At some point we'll see the closing of the gold window again.
*McShirley jabs at John Nadler. "Lumber analysts promote the industry, unlike kitco senior analysts"
*McShirley: Lumber trading is simple. No derivatives, no algorithms. No "unallocated" lumber. Cash drives futures, not the other way.
More as it comes!